The CAF Executive Committee held a meeting on Tuesday, 30 June 2020 in Egypt via video-conference to discuss the impact of COVID-19 on African football and other related issues. The meeting was followed by a virtual press conference with CAF President Ahmad Ahmad in attendance.
After hours of deliberation and consultation with stakeholders and taking into consideration the current global situation, via a video conference meeting, the Confederation of African Football CAF finally postponed the Afcon 2021 to January 2022 that was to be hosted by Cameroon in January 2021.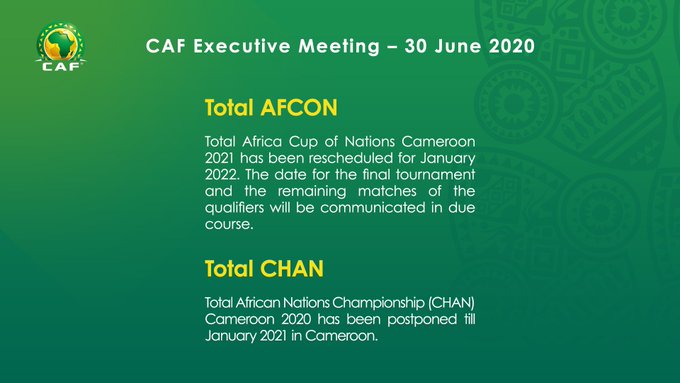 It should be noted that CAF was keen to hold the 2021 Nations Cup as scheduled, but a decision to adjourn the competition was the only possibility, given the coronavirus pandemic.
The Nations Cup was scheduled to start on 9 January in Cameroon, but the fate of the continental tournament was unclear given that the CAF has postponed three rounds of qualifiers until further notice.
The Nations Cup qualifiers Kick off in October, in order to hold the Nations Cup as scheduled in the winter, to avoid any delay that would see the tournament played in the heat of summer.
Africa's elite competition was traditionally held in the winter due to weather, but the Egypt 2019 edition took place in the summer. The African governing body subsequently decided to switch back to its normal January/February date.