Ghana Football Association (GFA) President, Kwesi Nyantakyi has congratulated former footballer, George Oppong Weah for winning the 2017 Liberian elections.
The former Ballon Dor winner won the polls in the West African Country after beating former Vice President, Joseph Boakai.
And the CAF Vice President has taken to his Facebook Page to congratulate the former footballer for chalking such a feat.
Who is George Weah?
Mr Weah starred at top-flight European football clubs Paris St-Germain (PSG) and AC Milan, before ending his career in England with brief stays at Chelsea and Manchester City.
He is the only African footballer to have won both Fifa World Player of the Year and the prestigious Ballon D'Or.
He entered politics after his retirement from the game in 2002 and is currently a senator in Liberia's parliament.
His former club, PSG, congratulated him on Twitter.
We knew George Weah way before he became President-elect of Liberia ?? ???

Congrats to the PSG and world football legend on the latest chapter of his brilliant career!!! pic.twitter.com/19sYefLzZg

— PSG English (@PSG_English) December 28, 2017
How did we get here?
Liberia, founded by freed US slaves in the 19th Century, has not had a smooth transfer of power from one elected president to another since 1944.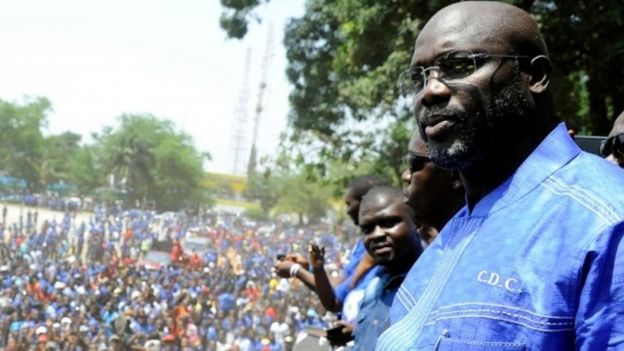 Mrs Sirleaf defeated Mr Weah in the presidential election run-off in 2005 and took office a year later, after the end of a brutal civil war that saw President Charles Taylor forced out by rebels. Taylor is now serving a 50-year prison sentence in the UK for war crimes related to the conflict in neighbouring Sierra Leone.
This time Mr Weah's campaign – under the Coalition for Democratic Change banner – appealed to the youth vote, while incumbent Vice-President Boakai was seen as old and out of touch.
But Mr Weah's election is not without controversy, as his running mate was Jewel Taylor, former wife of the jailed president.

The biggest trophy of his life
Hundreds of jubilant supporters of George Weah took to the streets shortly after the electoral commission chairman announced the result.
Election observers, both domestic and foreign, have praised the conduct of the election and say it showed a marked improvement from the first round in October.
This is third time lucky for a man used to winning trophies but who found it hard to win this, the biggest award of his life. And he has his work cut out for him.
Liberia has stabilised in the past decade after a long and bloody civil war. But it is still struggling with acute poverty and corruption. From producing Africa's first elected female president, now it has produced its first ex-footballer head of state.

Why a run-off?
Mr Weah, 51, won the first round of the presidential election in October with 38.4% of the vote, compared with the 28.8% won by second-placed Mr Boakai, 73. The failure of any candidate to secure an outright majority forced the run-off.
The National Elections Commission (NEC) said on Thursday that with 98.1% of the run-off vote counted, Mr Weah had won 61.5% of the vote while Mr Boakai was far behind with 38.5%.
Legal challenges delayed the vote to replace Ms Sirleaf, and turnout was low – put at 56% by election officials.
But election observers have praised the conduct of the poll.
More than two million people were eligible to cast their ballots in the nation of 4.6 million people.
Source: GhanaNewsPage.Com