Asantehene, Otumfuo Osei Tutu II has told President Nana Addo Dankwa Akufo-Addo that the people of Asanteman are grateful for the works his government has brought to the people.
He mentioned that though chiefs are not permitted to mingle in partisan politics, it is right of them to give cognizance to what government does.
Otumfuo Osei Tutu II at courtesy call paid on him at his palace in Manhyia by the President today, prayed that; "Asanteman remembers him for what he's done."
He noted that the President has been a loyal friend of his in ages, and that there is nothing much he could say in support of his bid for a second term than pray for him.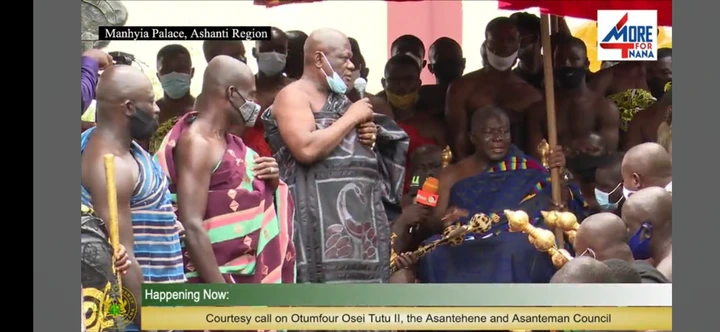 He commended President Nana Addo for heeding to his counsel ever since he become president.
"I remember you coming to my palace when you became president. We have a few conversations and I advised you. I am glad that you still have lived up to that. You don't need money at this your age but good name, and you have never failed me."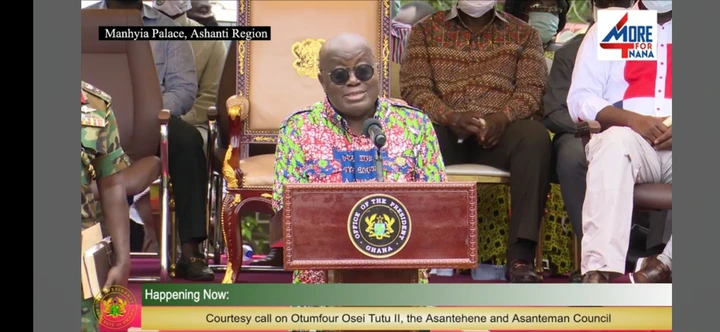 Otumfuo disclosed that President Nana Addo has remained in contact with him ever since he took office as President, that he urged him to continue.
President Nana Addo is currently on a tour in the Ashanti Region, and begun by seeking the blessing of the Asantehene this afternoon.